Welcome To Bos Construction
Renovation Specialists You Can Trust
As proud family owned builders, we specialise in the construction of quality home Renovations, Extensions and New Builds with a sharp eye for complex structures, problem solving and great design. Servicing the Havelock North, Hastings and wider Hawkes Bay we take pride in offering high quality workmanship.
From concept to handover, we deliver creative construction solutions and professionalism at every step. Our projects are delivered cost effectively, and on time, without compromise to build quality. We believe in providing a quality experience, meeting and exceeding client expectations, and making their project journey effortless.
We understand our clients have a vision.  We make sure to see that vision out, the way you dreamed it. Whether you have a plan, or you're just getting started, contact us to see how we can deliver your dream home.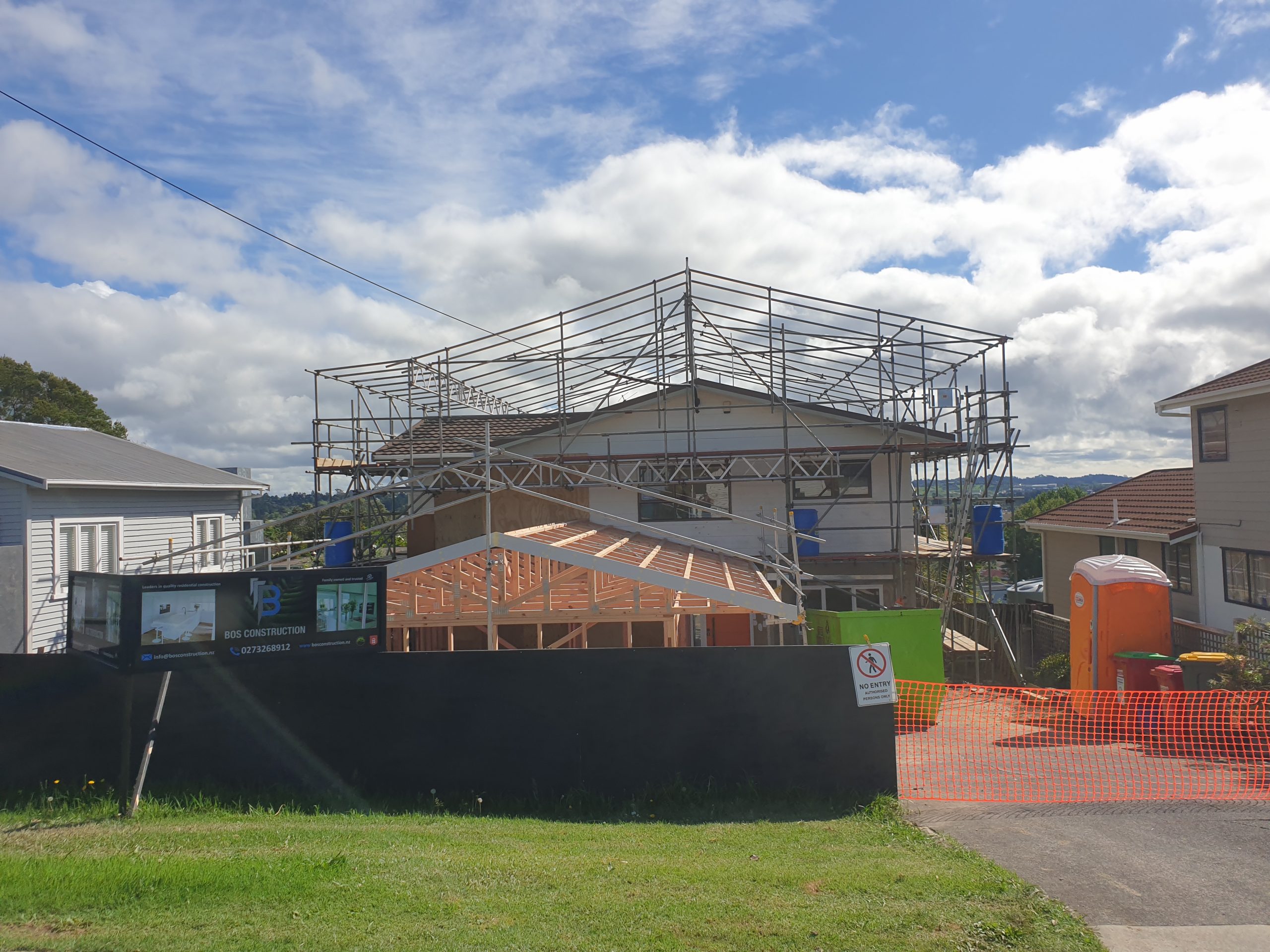 Family Owned and Trusted.
Decades of experience delivered with honesty and integrity.
Certified Architectural Builders
Hawkes Bay
Specialists in Residential Building, Renovation, Extensions and New Builds. We pride ourselves on delivering projects with honest communication on cost, logistics and delivery so that you can get the right result the first time.
Leaders in comprehensive renovation solutions, we can help get your plans underway. Whether looking to upgrade an existing space, create more room for the family or bring a new idea to life, we can help.

Project Management
We can help manage the construction process in its entirety. Approvals, budgeting, schedules and overseeing tradesmen, we integrate teams to bring together your project to the highest standard possible.

Improve the space you're in and add value to your property by extending. Multi-level extensions, multi-generational additions, garages and more; extensions are the perfect solution for a growing household.

Exterior & Decking
Enhance the landscape you're in with great exterior design and build. Whether constructing a pool area, decking, patios, fencing or more, we enjoy working outside and bringing your ideas to life.

Take the Kiwi dream of homeownership to the next level by creating your own slice of heaven. Our mission is to guide you through the entire process, stress-free, using your off plan build or a unique luxury design.
Kitchen & Bathroom
Breath new life to your kitchen and bathroom while adding value to your home. We bring together the best tradesmen and materials to deliver contemporary, timeless, well thought out spaces.
Contact Us for a Consultation
Whether it's a much-needed upgrade, more space for the kids or you've simply got a great new idea. We're here to help. Experts at bringing visions to life, contact us to discuss your options.
"Ben and his team take real pride in their workmanship and ensure their subcontractors meet their high standards as well. At all times during the project the team were approachable, interested and solution focused and I would have no hesitation in recommending them.
– Hillcrest Extension
We work with some of the best suppliers and design teams to ensure our high standards are continually met. The construction process is a collaborative one, and we believe in the importance of pairing with like-minded professionals.
Why Choose Us As Your Architectural Designers in Havelock North and Hawkes Bay.
You have a lot of choices when it comes to pool builders in Havelock North and Hawkes Bay., so why should you choose us at Bos Construction? We are leading home builders in the local area, with several key features that make us stand out from the competition.
High-Quality Workmanship
Whether your project is a straightforward build on a section or you have a house with an architectural design unique to Hawkes Bay, we will ensure the build quality is exceptional. Our goal is to make sure you are completely satisfied with your home at the end of the build.
Experience and Expertise
At Bos Construction, we have extensive experience in all types of residential building projects. This includes new builds, renovations, and extensions, and we are respected architectural builders in Havelock North, taking on high-end projects with exacting specifications.
Creativity and Problem-Solving Skills
We will bring a unique level of creativity to your building project, where we will develop innovative solutions to help you achieve the look and features that you want while also staying within budget. Plus, when those issues occur that always occur on building projects, we'll ensure they are resolved without delay.
Excellent Communication
We will be in regular touch with you by phone and text to keep you up to date with the progress of the build. We can also schedule regular or ad hoc site meetings, and we're available whenever you have a question and want to give us a call.
Project Management Skills
Our customers typically want us to project manage their build to ensure it runs smoothly and finishes on time and within budget. We'll look after all the scheduling, managing sub-contractors, ensuring materials are available on-site, and more.
Reliable and Professional
You can depend on our team to deliver the highest standards of service, turning up on time and remaining professional throughout the project.